POV of the CEO
-Brann takes a coffee break with key persons within the field of innovation
Brann actively collaborates with companies that strives to develop and improve the world. We at Brann are proud to have clients working with social improvement and climate promoting solutions. Striving for a sustainable future is one of Brann's core values.
We grabbed a quick coffee with Carl-Gustav Löf, CEO of Arevo to talk about the future.
Arevo offers completely unique bio stimulants and plant nutrition products that combines high growth and stress resistance with climate benefits and simplified cultivation. The cornerstone is world-leading and pioneering research on plant nutrient uptake. Their product arGrow Granules has just been granted a patent in Japan.
"It's really great, we've been granted a patent on our core value – a plant nutrition product that provides increased soil health and at the same time reduces emissions of acidifying chemicals and greenhouse gases", says Carl-Gustav.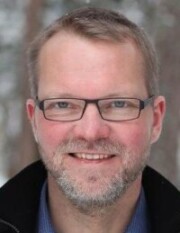 Crystal clear future
"We are just improving our offering through new products that can supply plants with nutrients for longer periods of time, and thus do not need to be added as often. Nitrogen, for example, is released more slowly from amino acids than from the traditionally used inorganic molecules, and now we are taking a closer look at how the crystal structures of the amino acids affect the properties", says Carl-Gustav.
He continues: "A combination of technologies lies in time: By combining our products with microbes, we can influence both the plant and its immediate environment so that plant cultivation becomes more and more climate-smart."
Arevo is also nominated for the Umeå Gala award "university spin-off of the year" which is awarded to a company that has built its business around a business idea based on research or studies at Umeå University or the University of Agriculture in Umeå.
At Arevo, we are passionate about really contributing to sustainability and climate benefit – I think it shows. Of course, the unique and international research environment and the availability of expertise in Umeå are also crucial to our success", says Carl-Gustav.
Advice to other spin-off companies – what should they focus on at an early stage?
Carl-Gustav smiles and says "You must have the client's point of view from the start and build in what makes your product unique so that you avoid a price war with the competitors. Work actively with patents. Change the playing field to your advantage."
Changing the game plan to your advantage via patents is one of Brann's main expertise areas and thanks to patent consultants who actively work side by side with clients for a deep understanding of the technology and their offer, we can create long-term benefits for our customers.
Annika Kilander who is Arevo's contact person at Brann: "It is extremely inspiring to be so deeply involved in the technology and I am grateful to be able to work daily with companies that have climate-promoting technology as their main focus!"
"Our strategy is based on exclusive rights, and we will therefore continue to work actively with patents to achieve our goals," answers Carl-Gustav when we ask what is required for the success story of Arevo to continue.
We at Brann wish Carl-Gustav Löf and Arevo AB the best of luck and we look forward to a continued joint journey towards these goals!