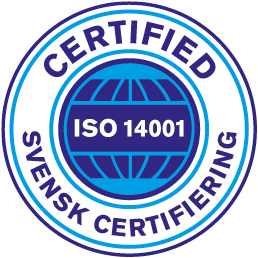 While our attorneys always strive to become the best in their field, constantly developing their skills further and making sure to have all relevant certifications and authorizations in their field – Brann as a company strives to become it best self as well.
Brann has always been an environmentally aware company striving to reduce the burden on the environment. Since 2018 we've been climate compensating via GoClimate but we wanted to further increase our mission to leave as small a carbon footprint as possible.
Hence, we began investigating the possibilities of consolidating our environmental work through ISO certification. Even though we are a white-collar company and have a classic office business, we think it is important to identify our environmental impact and try to minimize it.
In the fall of 2021, we decided that we would go for an actual ISO certification and in the spring of 2022 the road to the certification began.
"The certification process has been extremely educational, exciting and fun!", says Anna Tofvesson, CFO at Brann, who's been in charge of the process. One of the things that Anna found both educational and very fun was to create and implement a new, more thorough, environmental management system.
"Once we had decided to certify ourselves within ISO 14001, we worked on adapting our environmental management system according to the ISO 14001 standard", she says. It's not easy to fulfill all details of such standards and a lot of work and energy was put into the project.
"It is really rewarding and stimulating to take part in the whole company's commitment to become better and finding ways to improve", she says and explains that part of the environmental management system is to handle deviation reports and improvement proposals from the organization. One of the colleagues who got involved is Brann's IT Manager Albert, who thinks it's a good idea to try to reuse as much as possible of all IT-related hardware that is to be discarded. To do that, he contracts Dustin, who offers the service Takeback – an initiative to reuse IT products. The IT products that cannot be reused are sent for recycling. "What I find especially great is that he did it on his own initiative, inspired by the company's environmental work," says Anna.
In June last year (2022) we were tried by ISO controllers during a whole day in our offices and then certified by Svensk Certifiering Norden AB. "We are proud of our certificate and our environmental management system". Anna is now planning an internal audit of the environmental management system and Brann's first year as ISO certified.
"It is very exciting to follow up!" There are a lot of ideas brewing to further expand and increase the environmental work at Brann. "I have been thinking about whether Brann can somehow help strengthen the ecosystem by stimulating the biological diversity in Stockholm's inner city", Anna says. "A proposal for how to favor the ecosystem could be to set up a so-called bee hotel in the courtyard or perhaps on the roof of the property," she smiles, "or support a project that works to promote the ecosystem. But those are just ideas so far!"